Patented Blue Laser Technology for challenging measurement tasks
2019-10-15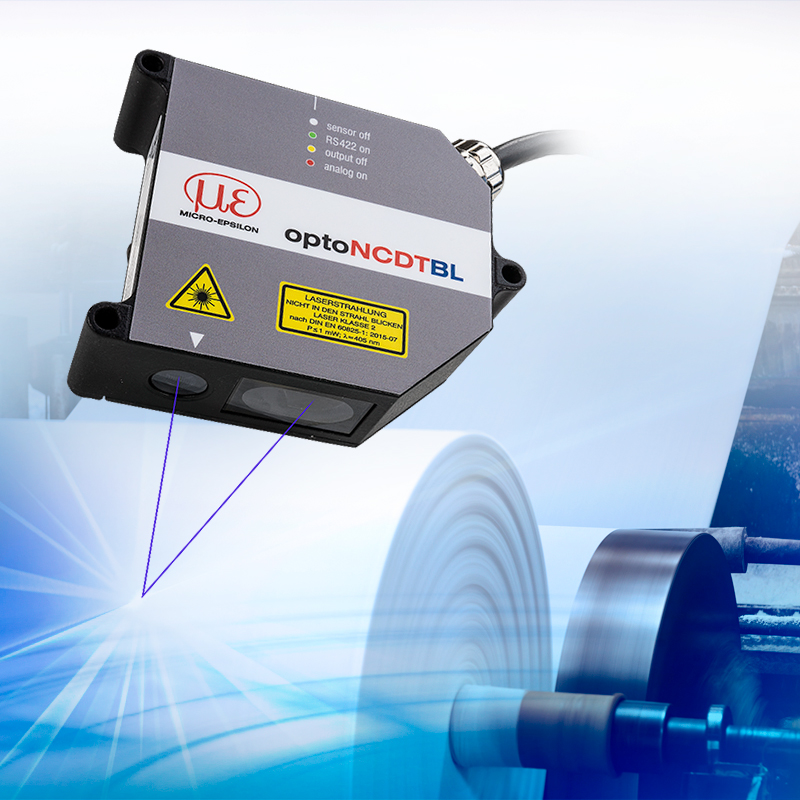 Laser triangulation sensors normally operate using red laser light. With demanding surfaces such as red-hot glowing and organic materials like wood and transparent materials, red laser sensors reach the limits of their performance capabilities.
Patented Blue Laser Technology
The patented Blue Laser Technology from Micro-Epsilon enables these objects to be measured precisely. One demanding measurement task can be found in the production process of quality paper. Here, the patented Blue Laser Technology enables the damp paper pulp to be measured as it becomes a solid paper web. Using a red laser light, this measurement is not possible because the laser light shines through the still damp paper pulp and cannot generate any precise results.
This inline measurement is carried out using an optoNCDT 1750BL laser triangulation sensor with a blue laser point. The major advantage is that the measurement acquisition can take place at an early stage of the manufacturing process. If the process parameter deviates from the target value, it's possible to intervene immediately in the production process. This significantly reduces waste and saves money.
Unique feature - distance measurement on transparent materials
Another measurement task that can only be solved using the Blue Laser Technology is the diffuse measurement of transparent plastic materials. The Blue Laser method for optical sensors patented by Micro-Epsilon in numerous countries enables our customers to precisely measure the distance of transparent materials in a unique way. The key to this is the blue laser light which, in contrast to the red laser, does not penetrate the material. Therefore, the laser point is sharply projected and high precision measurement results are achieved.
The optoNCDT 1750BL masters real-time quality control in almost any industry. With its ultra-small light spot, even the smallest of components can be detected and its compact design enables integration of the sensor in confined spaces. The combination of a wide range of features and outstanding performance make the optoNCDT 1750 a leading laser sensor in its class. Depending on the model, the sensor is available for measuring ranges from 20 to 750 mm. The user-friendly web interface enables to adapt the measurement tasks and the retrieval of predefined presets.