Reliable detection of burrs on sheet edges
2017-05-23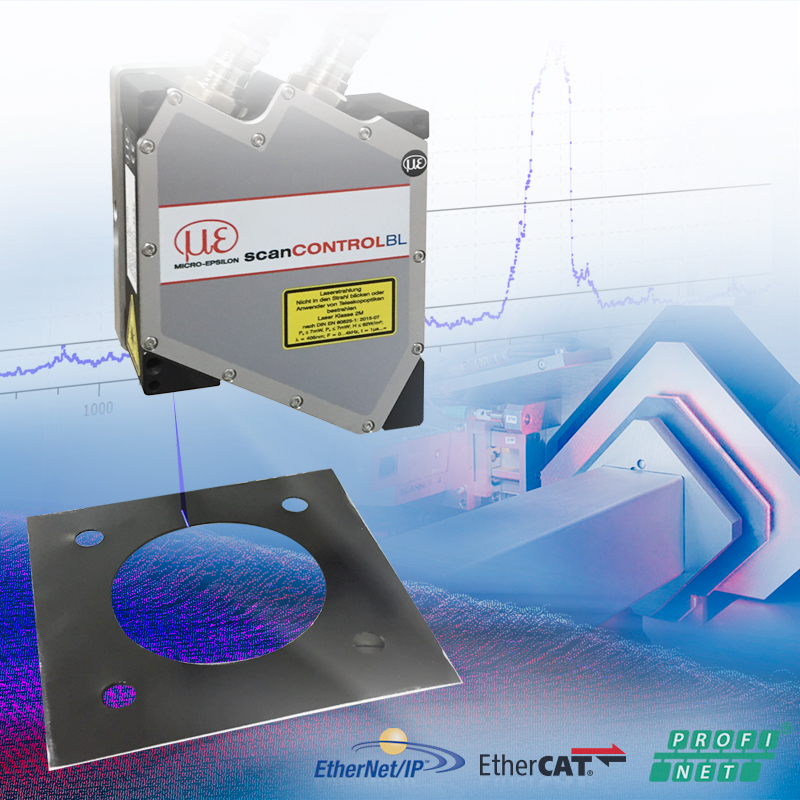 In order to prevent corrosion of metal sheets, continuous and error-free corrosion protection is required, for example, using protective varnish. With cut edges of metal sheets, the thickness of the applied protection varnish can vary and so becomes an uncertain parameter. In order to ensure a long product life, burrs must be recognized early in the production process before the corrosion protection and other paint layers are applied.
In this application, the scanCONTROL 2910-10/BL laser scanner is installed directly in the production line and detects inline the burrs from 20µm on sheet edges. This reliable detection method is possible due to the high point resolution of approx. 8µm along the laser line, which provides the required precision for this measurement task. The sensor mounted onto the robot is guided over the edges of the cut-and-punched sheet metal parts and detects their profiles. Height and width of the burr can be determined and evaluated directly in the scanner. Direct OK/NOK output is possible. Transmission of the measurement values directly to common fieldbuses such as Profinet IO, EtherCAT and Ethernet/IP is performed via the scanCONTROL Gateway. The scanCONTROL Gateway can be connected to up to 4 sensors via Ethernet-Switch.
In the new scanCONTROL catalog you will find all the details about the new features of the scanCONTROL product family, such as the new Smart PLC Unit that enables solutions with up to eight laser scanners. The scanCONTROL Smart PLC Unit is an industrial control unit for measurement value calculation intended for scanCONTROL laser scanners. It can be equipped with customer-specific application software for the respective measurement tasks. The determined measurement values are evaluated, displayed, recorded and transmitted via the Smart PLC Unit to higher-level control systems using analog and digital interfaces.